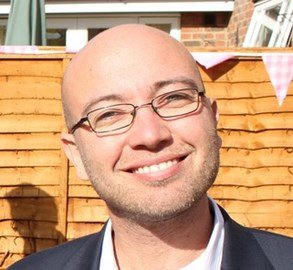 It is with great sadness that we share the news that Simon Parrish, who led Development Initiatives' technical work on the IATI Secretariat from 2008 to 2013, passed away peacefully last Friday night. Our thoughts go out to his wife, Chloe, his family and all those touched by such a rich life cut tragically short.
Before Simon joined Development Initiatives he worked for the UK Department for International Development (DFID). This tribute, by Charles Agnew (DFID Head of Business Solutions), was posted on DFID's intranet:
"Simon worked for DFID for many years before joining Development Initiatives. He was an enthusiastic and inspirational person who made significant contributions to the use of technology in development programmes through PRISM, ARIES, the International Aid Transparency Initiative, and was instrumental in forming the Business Analysis function within DFID. He was a passionate advocate of improving the lives of people in developing countries and was well respected by the people he worked with and will be deeply missed. Our thoughts are with Simon's wife Chloe and his family at this difficult time."
At DI Simon spent his first year leading up to the Accra High Level Forum on Aid Effectiveness collecting the evidence and building the case for transparent, timely and forward-looking data – encapsulated in a Scoping Paper which was finally published in early 2009. This intellectual work underpinned the creation of IATI in Accra in September 2008.
Simon immediately became a key member of the IATI Secretariat. Together with Brian Hammond, then Chair of the Technical Advisory Group, he was responsible for building the IATI Standard, distilling the disparate views of a broad range of interested organisations. According to Brian,
"Simon had that rare ability to combine understanding of the aid business and its information needs with a knowledge of applying new and emerging technologies to meet those needs. His skills were fundamental in providing leadership and technical guidance to the IATI Technical Advisory Group from its inception to agreement on the IATI Standard in 2011. The proof of this is shown by the adoption and use of the standard by nearly 500 organisations so far. His friendliness and infectious enthusiasm will be sorely missed by all those who were lucky enough to work with him."
A critical part of the work building the standard involved understanding the needs of developing countries and translating these into technical demands that were acceptable to their development partners. Country work was led by Danila Boneva who represented UNDP on the Secretariat from 2009 to 2011. Danila reflects:
"I will always remember Simon smiling and laughing off all adversaries and controversies surrounding the initiative in its early days. All doubts were cast away; all excruciating technical questions had a response in Simon and we could just focus on the tasks in front of us and look for solutions. Simon was incredibly talented and modest, which is a rare combination. He always looked for the best in people, in situations, in problem-solving. His whole personality was one of a humane human being, someone that understood others and would help them when they needed it. Being a member of the early IATI team remains an unforgettable experience because of people like Simon and the rest of the wonderful colleagues I worked with in 2009-2011."
The IATI Standard became operational at the beginning of 2011. Alasdair Wardhaugh from DFID was the coordinator of the Secretariat at that time. He attests:
"I worked closely with Simon on creating the IATI Standard, when he used his intellect and passion to sell the concept to the world's biggest (and until then least transparent) donors. IATI's expansion was hugely down to his efforts.  But it was always about the end not the means for him and his work to empower civil society in Nepal through information has been transformational."
It was fitting that it was Simon that led the presentation of IATI in Busan in November 2011. At that stage we could boast 17 publishers. Over the next couple of years his stewardship of the IATI Technical Team saw this number rise steadily. According to John Adams, current TAG Chair:
"Simon always had a clear vision for IATI and worked tirelessly to bring that to fruition. His deep knowledge, strong passion and infectious enthusiasm made him fabulously effective. He built strong relationships with such a wide range of people, and this was fundamental in gaining broad support for IATI. IATI would have got nowhere without Simon. I will miss his support, advice and ideas which were of real help to me in my role within DFID and as Chair of the IATI TAG."
In 2013 Simon shifted his responsibilities to a broader leadership role within Development Initiatives, focussing more on the demand side of the information ecosystem, recognising that the IATI project will come to nothing unless the data is properly used. As recently as a month ago, over two years into his debilitating battle with cancer, Simon was analysing the challenges of mapping IATI data to the SDGs.
If you would like to share your memories of Simon, please do so on the IATI Discuss forum. There is also a page on the DI website where you can send a personal message to Chloe or make a donation to the hospice where Simon spent his last days.