IATI Strategic Plan 2020-2025 (ES / FR) sets out a clear strategic direction for five years, aimed to capitalising on the initiative's strengths, addressing its weaknesses and maximising its contribution towards achieving sustainable development outcomes.
Vision, mission and goal
The document provides IATI's shared vision, mission and goal.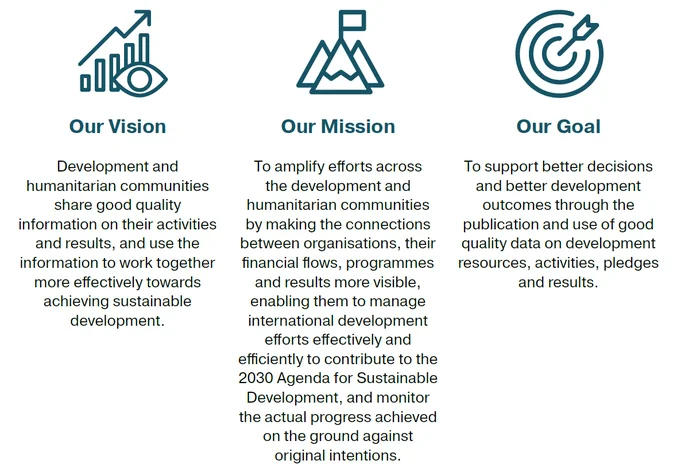 Three key objectives
The plan sets out three mutually reinforcing objectives for the initiative over the next five years. These are improving the quality of IATI data that is published; promoting the use of data by development and humanitarian actors; and strengthening IATI's data Standard and reinvigorating its community of publishers and members. These objectives are crucial in helping IATI achieve its vision: that transparent, good quality information on development resources and results is available and used by all stakeholder groups to help achieve sustainable development outcomes.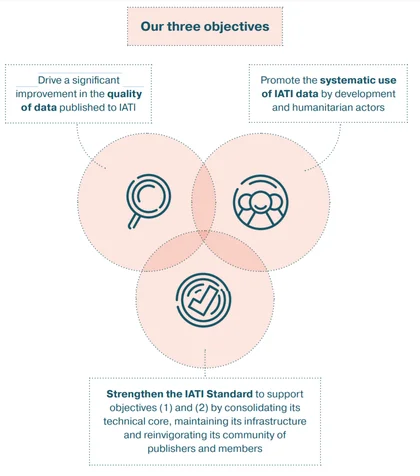 Agreed by IATI Members
Members approved the text of the IATI Strategic Plan at IATI's annual Members' Assembly meeting 2019 (Brussels on 11-12 September). IATI's membership represents donor and developing country governments, multilaterals, development finance institutions, civil society and private sector organisations.
Widely consulted on
The Strategic Plan was developed following an extensive consultation process involving participants from over 20 countries. To ensure the Strategic Plan was demand-driven, IATI held online surveys, focus groups, a technical face-to-face meeting and conducted focused case studies in Malawi and Somalia. More than 200 comments were also received in English, French and Spanish through an open online discussion forum.
IATI Strategic Plan (2020 - 2025) Results Framework
To ensure that measurable objectives are kept in sight, IATI has also developed a Strategic Plan Results Framework, in consultation with its membership. The Results Framework translates the IATI Strategic Plan (2020-2025) into a set of measurable targets that demonstrate how the IATI membership, Secretariat and Governing Board will prioritise efforts to deliver on the agreed mandate and vision through 2025. The framework is an adaptive tool, subject to revision and reassessment by the membership on the basis of its utility for decision-making and learning over time. The framework is complemented by a comprehensive methodology document, which lays out how each indicator will be measured.
IATI Strategic Plan Results Framework
Monitoring Reports