The IATI Standard allows organisations to provide detailed information for decision-making and accountability.
What is the IATI Standard?
The IATI Standard is a set of rules and guidance about what data organisations should publish and what format it should be presented in.


The Standard has been to created to deliver information required to improve the coordination, accountability and effectiveness to maximise their impact on the world's poorest and most vulnerable people.
A range of organisations can be IATI publishers, from governments, multilateral institutions, private sector and civil society organisations and others, to increase the transparency of information on resources flowing into developing countries.

The IATI Standard allows organisations to provide detailed information for decision-making and accountability. This includes the following:
Data about an organisation
Total spend by the organisation over the last year.
Total annual planned budget for the organisation in each of the next three years, where available.
Planned budgets broken down by individual recipient countries or regions around the world.
Useful background documents, such as country action plans and annual reports.
Data about specific activities
Organisations are asked to publish data about individual activities that represent pieces of development or humanitarian work they are carrying out.
Financial information for the activity
Incoming funds: recording funds that come into the organisation.
Disbursements: funds that the organisation passes on to another organisation.
Expenditures: spending by the organisation on a good or a service.
IATI also encourages organisations to publish information about funds they plan to provide or are expecting to receive on a specific activity. Details can be shared on firm commitments made in a formal contract or written obligation, or on indicative commitments, provided in a planned activity budget.
Important details beyond finances
In addition to finances, IATI's data standard allows organisations to share other useful information on development and humanitarian activities. For example:
Location data relating to the activity, which could include the country, sub-national and even precise coordinates for a location.
The sectors or policy area that the activity falls into - for example health, research or gender.
Results data on the impact or outcome of the activity.
The conditions attached to an activity - for example the interest rate on a loan or any specific requirements for funds to be spent on goods or services in a particular country.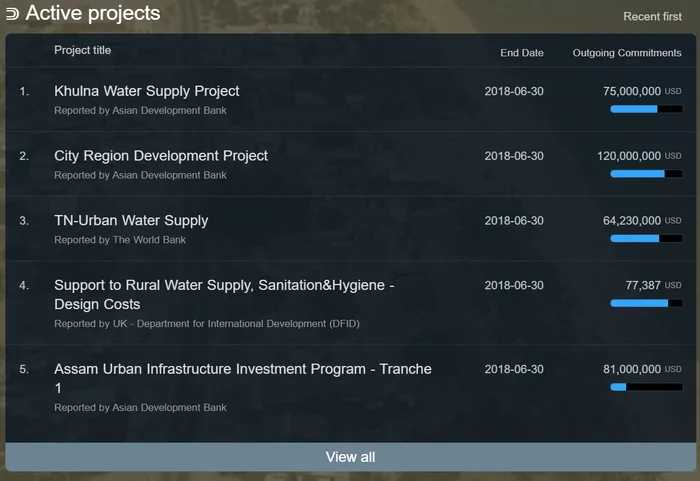 Up-to-date and forward-looking data
Timely data
The Standard allows for monthly, weekly or even daily updates, and IATI encourages organisations to update changes in their spending at least every quarter. This helps to ensure that information is as up-to-date as possible.
Forward-looking data
The IATI Standard supports forward planning by allowing data to be published on organisations' spending plans up to three years in advance.
Format of data
IATI's Standard provides detailed guidance on how to publish data in the XML format required. Organisations are asked to provide links to their XML data files via the IATI Registry.
IATI data is then available to explore and download through a number of online portals and tools, for example through d-portal.org.
For further details see IATI Standard - Publishing guidance.