IATI's Country Development Finance Datatool now provides better access to data on development and humanitarian resources. User feedback has driven a wide range of improvements on the tool.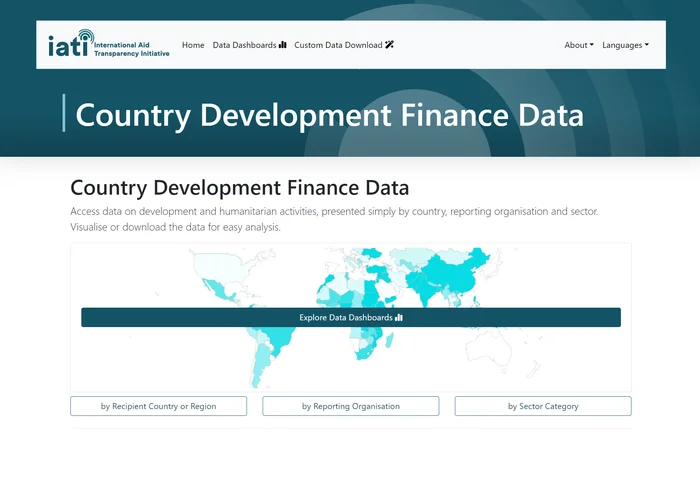 Key improvements:
Search by IATI Identifier, Activity Title, Provider Organisation, and Receiver Organisation: The addition of these filters enables data users to find activities or organisations by searching in these data fields.
Search codelist descriptions: This enables data users to easily access information within the tool on what a particular value means, for example, a user can now search within the descriptions of the Sectors to easily find the ones most relevant for their research.
Visualise the data in the Recipient Country dashboards in local currencies: While already available in the data files, the local currencies have now been made available on the Recipient Country dashboards, enabling data users to quickly visualise the data in USD, EUR, and the local currency. A list of local currencies for each country can be found here.
Visualise organisation network on the Reporting Organisation dashboards: While only a partial view of the network, this visualisation enables users to begin to understand how resources are flowing between organisations.
Add Commitments and Incoming Funds to custom spreadsheet: These two transaction types were previously only available in the data files. Their addition to the Custom Data Download allows data users to analyse these resource flows alongside budgets and spending. It is also now possible to view Disbursements and Expenditures separately.
View data import status: Data users can now see when each dataset was updated in the database.
Improved performance and ease of use: To make the tool easier to use and to ensure that it runs as quickly and seamlessly as possible, some other improvements were implemented, including: the ability to easily clear filters, the auto-ordering of years, the retention of the display option and number of results in the URL, display of total number of rows and pagination, etc.
These improvements follow the launch of features to CDFD in February this year. These changes help advance efforts to improve access and enable analysis of IATI data.
Further information
For more information on how to use IATI data you can:
Check out the Data Use Query Corner on IATI Connect; this space is a one stop location where data users can learn to solve queries with IATI data, and ask the Community their questions and discover the latest opportunities to engage with one another
Reach out directly to the IATI Secretariat at

[email protected]

for additional support in accessing, understanding or analysing IATI data.