Useful features have been added to the International Aid Transparency Initiative (IATI) Country Development Finance Data (CDFD) tool, to respond to data users' needs. CDFD provides simple, Excel-formatted data on activities and resource flows published by more than 1500 development and humanitarian organisations.
Following feedback from governments, civil society organisations, providers of development and humanitarian finance, and analysts, the tool now offers the following features to access data published according to the IATI Standard:
A new Data Dashboard: Visualise the data in useful summary maps, charts, and tables. Explore a summary dashboard as well as dashboards presented by Country/Region, Reporting Organization, and Sector. Use various filters to customise your view.
A new Custom Data Download: View and download customised spreadsheets of data using a range of filters to select the data you need based on your interest. Select the columns to be included in your spreadsheet and filter it by calendar year or quarter, budgets and/or spending, reporting organisation, type of aid (e.g. grant or loan) and more.
A redesigned interface: Recognise CDFD easily as an IATI tool with updated branding, and access the Data Dashboard and Custom Data Download easily from the home page.
The tool's data, dashboards, and custom data download are all available in French, Spanish, and Portuguese. Visit the IATI Country Development Finance Data tool at countrydata.iatistandard.org/ to explore all new features and improvements.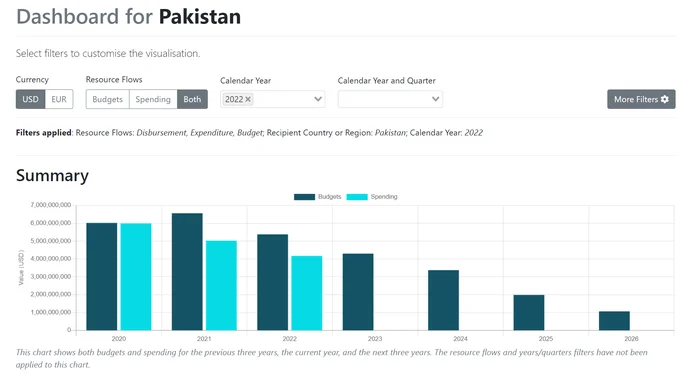 Responding to user needs
Since CDFD's initial release in 2021, IATI's Secretariat has used it to conduct dozens of training sessions and support calls with data users from partner country governments, civil society, development partners, and researchers. This includes the training of 58 government representatives from 49 countries and more than 75 civil society representatives from national and international CSOs through a series of workshops in 2022 (Rwanda, May), (Nigeria, July), (Thailand, November). At these workshops, participants provided valuable feedback, which has helped to inform the development of the tool's new features.
Start exploring useful features now
In the Dashboards and Custom Data Download, you will find a range of features that make it much easier to analyse IATI data and share the analysis with others. Here are just some of them:
Interactive and customisable map showing budgets and spending by country.
Links to activity pages on d-portal.
Reporting Organisation Groups are now available so that you can select a group of reporting organisations for those organisations that publish their IATI data under multiple publishers (e.g. the United States, World Bank, European Commission). If you see additional groups that it would be beneficial to add, please contact us.
Persistent URLs enable easy sharing of customised Dashboards and Custom Data Download queries.
Descriptions are now available via the Custom Data Download.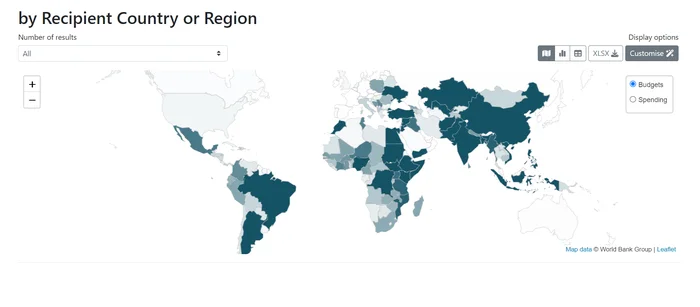 Examples of searches
Here are some examples of data downloads you can find using the new Data Dashboards and Custom Data Download features:
| Data Dashboards examples | Custom Data Download examples |
| --- | --- |
| The countries and sectors in which UN agencies spent money in 2022 here. | UN activities and spending for 2022 here. |
| How humanitarian funding was allocated in 2022 by country, organisation, and sector here. | Activities with budgets or spending for the 2021/22 Cameroon fiscal year (July-June) here. |
| Spending in 2021 and 2022 by the European Commission in the Democratic Republic of the Congo here. | All published Oxfam Novib activities with spending in 2022 here. |
| Budgets (projected spending) in the Education sector for 2023 here. | Spending by Global Affairs Canada by activity from 2019 - 2023 here. |
| How the Bill and Melinda Gates Foundation allocated its 2022 funding by country, sector, region, finance type, etc., here. | Allocation of spending in the Health sector from 2019-2022 here. |
For support
For more information and support on using IATI's Country Development Finance Data (CDFD) tool:
Join our upcoming webinar to get a helpful demonstration of the CDFD tool, including its new features. It will be held on Monday 20 February 2023, 2:30 - 3:30pm UTC Join on Zoom: meeting link
Reach out directly to the IATI Secretariat at

[email protected]

Visit IATI's Data Use Query Corner
Join the Data Use Community of Practice on IATI Connect
View CDFD instructional videos on understanding and analysing Excel spreadsheets on data by country/region:
Introduction to IATI Country Development Finance tool (FR, ES, PT)
How to access and understand data on external development finance (FR, ES, PT)
How to analyse data on external development finance (FR, ES, PT)
Related news
IATI held an in-person, multi-stakeholder workshop in Abuja to promote the use of IATI data.
Read more
On 17-18 May 2022, the International Aid Transparency Initiative (IATI) hosted a partner country government workshop, in collaboration with the government of Rwanda, an incoming Governing Board member.
Read more
The IATI Secretariat has explored how to use IATI Datastore Search, together with the Country Development Finance Data (CDFD) tool, to identify funding that saves lives.
Read more