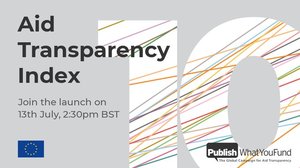 Publish What You Fund (PWYF) has released its 2022 Aid Transparency Index today. The Index measures the transparency of the spending and activities of major development organisations'.
2022 marks the 10th anniversary of the Aid Transparency Index and the Index 2022 report was launched at a PWYF hybrid event hosted jointly with the European Commission, DG International Partnerships. The African Development Bank came top of the Index, with the World Bank International Development Association (World Bank-IDA) ranking second and Inter-American Development Bank (IADB) achieving third place. The report shares details about the assessment of 50 organisations, including donor governments, multilateral organisations and development finance institutions.
Publish What You Fund's Index shows that organisations assessed have largely maintained their transparency at pre-pandemic levels. Their Index 2022 report notes:
"The overall picture of the 2022 Index results is broadly similar to the 2020 Index. The average score has dipped slightly (61.8 in 2022, compared with 63.4 in 2020). This year 31 of the 50 organisations we assessed scored in the 'good' or 'very good' index categories, meaning they are consistently publishing high-quality aid data.
View the Index 2022's full results, methodology and analysis by visiting Publish What You Fund Aid Transparency Index 2022. All inquiries about the Index (including reports from previous years) should be directed to Publish What You Fund.
Related news
Publish What You Fund launched its seventh Aid Transparency Index.
Read more