Promising steps have been taken to improve governments' access to development and humanitarian data on resources and results within their countries.
IATI's Data Use Fund, an initiative that underpins the achievement of IATI's Data Use Strategy, has financed a project to make it easier to import IATI data published by donors and implementers into developing countries' internal Aid Information Management Systems (AIMS).
Development Gateway has been actively supporting IATI through its AIMS development work for many years. After a successful bid for funding, Development Gateway has used it to upgrade their IATI-AIMS Import Tool. The tool aims to simplify the process of bringing IATI data into the AIMS, and thereby reduce the burden of reporting into the AIMS, both for government staff and for donors.
Working with the Government of Senegal, UNICEF, UNFPA, and the Italian Agency for Development Cooperation, Development Gateway has delivered three new key features:
Automatic search for IATI data files
IATI-AIMS Import Tool now has a new search function to allow staff to quickly and easily find specific IATI data files directly within the AIMS, reducing the need for training of government staff on using different tools such as the IATI Registry.
Development Gateway calls the new search function, powered using the IATI-API, as one of the tool's "biggest improvements".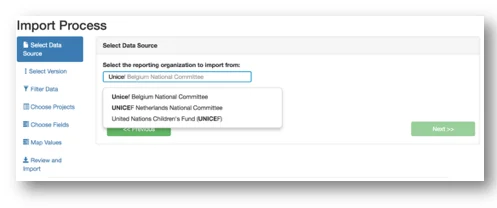 2. "Tooltips" added to explain IATI data
Development Gateway has added "tooltips" to allow users to quickly see definitions of IATI data fields by hovering over an icon.
3. Preview the IATI data before importing
Development Gateway has also built the capability to preview the IATI data, allowing users to view and understand what the data will look like once it is imported, without having to use an another tool to view it.
These improvements enabled Development Gateway to upgrade the Senegal IATI-AIMS tool and they have delivered training to government staff and development partners to use the new functionalities.
In line with their commitment to open source tools, each of these changes is available to the public on GitHub and have been added to the IATI-AIMS Import Tool open source code. For more information about the tool and its availability for use in other government AIMS, contact Taryn Davis Holland, Senior Associate at Development Gateway: [email protected].
For more information on the projects funded by IATI to improve the use of IATI data, please visit IATI Data Use Fund.