IATI's Annual Report 2021 (ES / FR) is launched, setting out how the initiative implemented the second year of IATI's ambitious five-year Strategic Plan. The initiative's accompanying Financial Report (ES / FR) is also published today.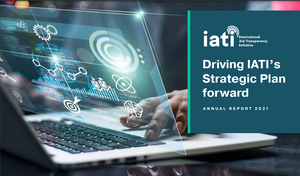 Driving IATI's Strategic Plan objectives forward
Read Annual Report 2021 to discover how IATI delivered action to drive forward our Strategic Plan's 2020 - 2025 objectives:
Promising steps were taken to promote the systematic use of IATI data by development and humanitarian actors. For example, 20 partner country governments were trained on using IATI's Country Development Finance Data tool to analyse external development finance for budget planning and monitoring. By the end of 2021, data users in 100 countries had used the tool to download IATI data in simple Excel spreadsheets.
Discover how much IATI data was available for each country's incoming budgets, spending and activities in 2021:
*Download Excel spreadsheets on 2021 IATI data for each country (taken from the Country Development Finance Data tool). For information about using this data please read the IATI Country Development Finance Data tool guidance
To improve the quality of data published, an extensive consultation was launched in 2021 to help create a new IATI Data Quality Index. As a key commitment in the IATI Strategic Plan, the Index aims to measure the components of IATI data that matter most to development and humanitarian data users.
To strengthen IATI's technical tools and services, in 2021 the IATI Validator version 2 was launched and the IATI Datastore was rebuilt and brought in-house, onto IATI's new Unified Platform. This was a key recommendation of the 2020 Technical Stocktake, and marks good progress in IATI's evolution from a siloed set of technical tools and products to a single, integrated system architecture.
Increase in development and humanitarian data available
In 2021, the amount of data available in IATI on development and humanitarian resource flows and activities continued to increase.
An additional 135 organisations started to publish their data to IATI, representing a growth of publishers of 10% since 2020.
Organisations published data on a further 51,493 development and humanitarian activities.
Over 15,000 covid-19-related activities have been published from 236 organisations
Activities containing information on how they are contributing to the Sustainable Development Goals increased by 26% (20,379 more activities) since 2020
Strengthening the IATI Community
IATI's diverse community expanded significantly in 2021 as the initiative was successfully able to engage new audiences virtually. IATI's community platform, Connect, expanded from 392 users in January to nearly 1000 users by the end of 2021. In addition, IATI held two Virtual Community Exchange (VCE) meetings for the first time, attracting the highest number of attendees of any previous IATI event.
Looking ahead: staying on track to deliver IATI's Strategic Plan
The IATI Annual Report sets out key priorities over the next year to ensure IATI remains on track to deliver the Strategic Plan objectives by 2025. Working with our dedicated members and community, IATI will continue to work towards improving open data to help drive sustainable development outcomes.