This blog was written by Ulrika Modéer Assistant Administrator and Director of the Bureau of External Relations and Advocacy, UNDP.
My experience as a development practitioner, in a variety of roles, tells me that transparency and accountability are fundamental to gain trust and make change.
That is why I think it is so important for UNDP to demonstrate its commitment to transparency and accountability – and why I'm keen to continue building on this work as head of UNDP's Bureau of External Relations and Advocacy.
UNDP was instrumental in ensuring the voice of developing country governments informed the creation of the IATI Standard by holding extensive consultations throughout our network of programme countries.
I'm proud to be speaking this week, alongside several eminent panellists, on "Retrospectives and future trends on data, transparency and open government". Among many celebrations taking place at the 2018 UN General Assembly, UNDP is co-organizing this important event to mark the 10th anniversary of the International Aid Transparency Initiative (IATI). UNDP was a founding member of the initiative in 2008, and we have led the Secretariat of IATI for the past five years.
Before joining UNDP last month, I had collaborated with UNDP throughout my career – as a civil society partner, working in countries like Guatemala and Mozambique, as an OSCE elections monitor in Armenia and as a donor in my last role as Sweden's State Secretary for International Development Cooperation and Climate.
IATI's aims have been clear from the moment it was launched during the Third High Level Forum on Aid Effectiveness in Accra, Ghana. Founding members wanted to ensure governments in developing countries have the information they need to make data-driven decisions that support their national development policies. This fundamentally supports UNDP's own efforts to improve the effectiveness of development, and we've been fortunate to be engaged in this agenda ever since.
UNDP was instrumental in ensuring the voice of developing country governments informed the creation of the IATI Standard by holding extensive consultations throughout our network of programme countries. We engaged hundreds of government and civil society representatives from 79 countries to understand exactly what data was difficult to access.
We heard that the key data needs were for timely, comprehensive and forward-looking data on development spending and activities of donors and non-government actors. Having this data in an open, accessible format would enable officials in ministries of finance to align foreign aid with domestic resources in planning budgets and delivering on their national development plans.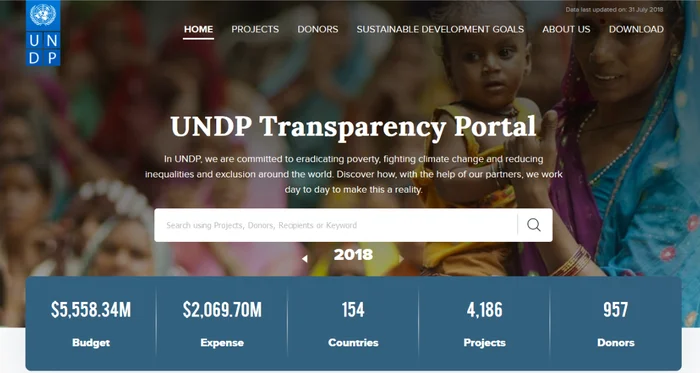 Ten years later, we're proud to see that more than 850 organizations are now regularly publishing good quality data according to the IATI Standard that was established on the basis of those consultations. Numerous organizations have found countless new and innovative ways to analyse, visualize, consult and share IATI data. Beyond simply aid, IATI data now includes details on humanitarian spending, climate finance and private sector activities, and the Standard continues to evolve under the custodianship of 90 members to meet the ever-increasing demands of new users.
When IATI was established in 2008, the Sustainable Development Goals did not exist, and yet the Standard is flexible enough to now offer the means for donors to report on the activities they undertake in pursuit of the SDGs, and the results of those activities. This data will contribute to monitoring progress in achieving the Goals.
In addition to the work we do for the IATI Secretariat, UNDP has 'walked the talk', holding ourselves to the highest standards in our own implementation of the IATI Standard. We publish detailed information, including results for more than 4,000 projects worth more than US$5.5 billion. We make this information available through our own transparency portal, open.undp.org, as well as through the IATI Registry, opening our books to scrutiny and making us more accountable to our donors and partners.
We're proud that our efforts have led us to be ranked among the top four most transparent development organizations in four successive independent Aid Transparency Index assessments, including top ranking for two consecutive years. We've worked to support other UN Agencies to implement IATI, following the commitment of the UN Secretary-General in 2017 to "reinforce transparency on agency-specific expenditures and results through system-wide enrolment into the International Aid Transparency Initiative".
So, what comes next for UNDP as we continue to support and strengthen IATI? We'll continue to work with our government partners to raise awareness about the availability of data, ensure that they are able to access and use it, and that the content evolves even further to ensure their data needs are addressed. For our Administrator, Achim Steiner, and for our staff at headquarters and throughout our global network, transparency is an absolute prerequisite for development effectiveness and sustainable development results, and we'll continue to step up the efforts of our own organization through our support to IATI. Stay tuned!