Understand and analyse IATI data more easily by using two new resources: 1. Guidance (EN/FR/ES) on understanding and analyzing the data, and 2. Excel Analysis Dashboard.
IATI's Country Development Finance Data (CDFD) tool allows users to download simple, Excel-formatted IATI data on development financing by recipient country or region. The tool's new Guidance and its Excel Analysis Dashboard support users to access and analyse data from IATI publishers on commitments, disbursements and expenditures, as well as forward-looking budgets.
1. New Guidance: IATI Country Development Finance Data Guidance: Understanding and Analysing Data in Transactions and Budgets Spreadsheets
Data can be pulled from the Country Development Finance Data tool into two simple spreadsheets, one for Transactions and another for Budgets. The purpose of the new guidance, which is available in English, French, and Spanish, is to support data users in understanding and analysing the data available in these spreadsheets. Find clear information on:
Understanding the Data: providing users with key information about the data, including descriptions of each of the data fields.
Analysing the Data: providing users with general guidance for analysing the data along with information on how to set up and use a PivotTable for specific analysis.
Additional Resources and Support: providing more information on where to go for further help in understanding and using IATI data.
2. Analysis Dashboard
The new Dashboard provides data users with a useful format for easily analysing and visualising the data in the Transactions and Budgets spreadsheets. The Analysis Dashboard's Excel workbook is designed to automatically populate a series of graphs, charts, and data tables.
Easy, step-by-step instructions are provided on how to use the Analysis Dashboard in the first tab of the workbook.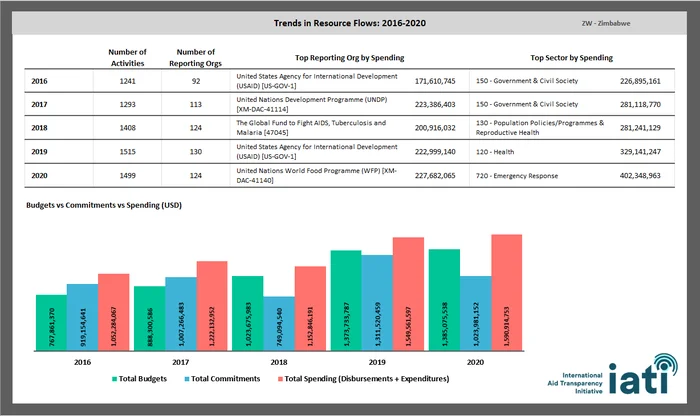 While primarily designed to meet the needs of partner country governments for analysing external development finance for budget planning and monitoring, this subset of processed IATI data by country or region can be useful for many data users. We encourage data users to access data via the Country Development Finance Data tool, review the new guidance, and test out the Excel Analysis Dashboard. Your feedback will inform future improvements.
To provide feedback or get support accessing IATI data, please contact the IATI Helpdesk: [email protected].