Identifying errors in IATI data is now easier with improvements released on IATI's Validator today. The IATI Validator is a key online tool that checks if data complies with the rules of the IATI Standard and is available to anyone with an interest in the quality of IATI data.
IATI's Technical Team has updated the Validator to run checks on data at a more granular level.
IATI's Technical Team has updated the Validator to run checks on data at a more granular level. Previously an entire IATI activity file would be checked (which contains multiple activities), and if just one activity had critically invalid data, then all the activities in the file would fail validation. Now the Validator assesses each activity individually and only the activities with critical errors fail validation.
The IATI Technical Team has also released visual and performance improvements to the IATI Validator's website (User Interface).
Benefits
The activity level validation feature helps publishers identify which specific activities have Critical errors in the Validator and enables linking from external websites to a specific activity in the Validator.
The user interface (UI) refresh brings a number of user experience and performance improvements, along with a familiar but updated look.
The UI refresh also brings the Validator Front End into the same consistent IATI Unified Platform technologies, reducing technical debt and maintenance efforts for the IATI Technical Team.
Detailed look at what's changed
Activity Level Validation
The Validator API and UI previously only returned Critical (XML Schema) errors at the file level, which made it harder to determine which activity in the file contained the error. Now, the Validator API and Validator Report page will display Critical Error messages that affect a specific activity inline with that activity.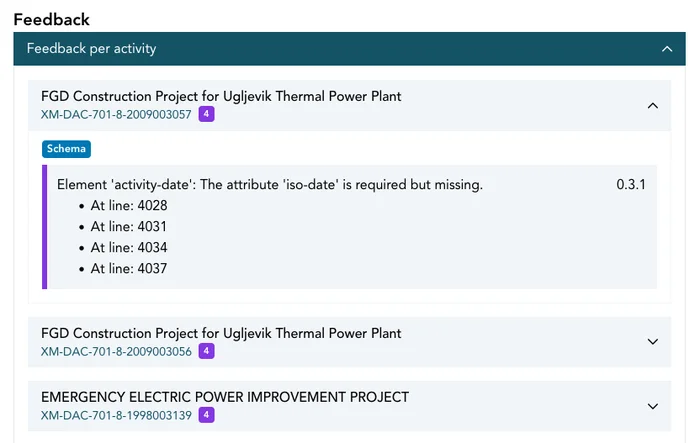 NOTE: New style reports for published files will become available during the next 24 hours as the Validator re-validates all published IATI files. You will still be able to access the existing (old-style) report in the Validator during this time. To know which version you're seeing, check the `Report Generated: 2022-06-30 21:35 (GMT+1) ` time on the report page or the `Validated` column on the publisher page. Anything after 15 November 0900 (GMT London), is a new report.
Ad-hoc validations using "Check Data" will provide new style reports immediately upon release.
Validator UI Refresh
Improved search capabilities for the Public Data viewer: Find a publisher more easily by the first letter using the alphabetical jump buttons

Single Publisher table improvements - improved viewing and sorting for publishers with many files
Helpful summary shows the counts of files and of each Validation Status:

Users can sort by any of the columns in an intuitive way with the new sorting drop-down: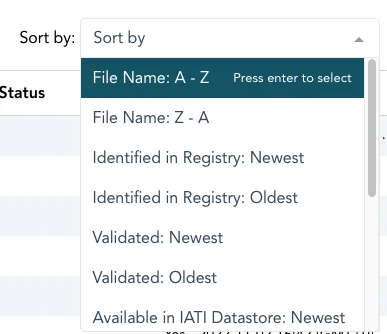 The table header is "sticky" so you don't lose context when scrolling through long lists of files:

Improved filtering and viewing for Validation Reports

Find specific activities or errors more easily with improved searching and filtering functionality
Feedback per activity is paginated and collapsed by default, giving a simpler overall view of affected activities before getting into the details
To make it easier to link to and find your files, the Validation Report page can be accessed at the following paths:

https://validator.iatistandard.org/report/<name>

Where <name> is the unique dataset name from the IATI Registry, which is used in its URL (e.g. https://iatiregistry.org/dataset/<name>)

https://validator.iatistandard.org/report/<id>

Redirects to above like the Registry

https://validator.iatistandard.org/view/dqf/files/<id>

For backward compatibility, redirects to top link above.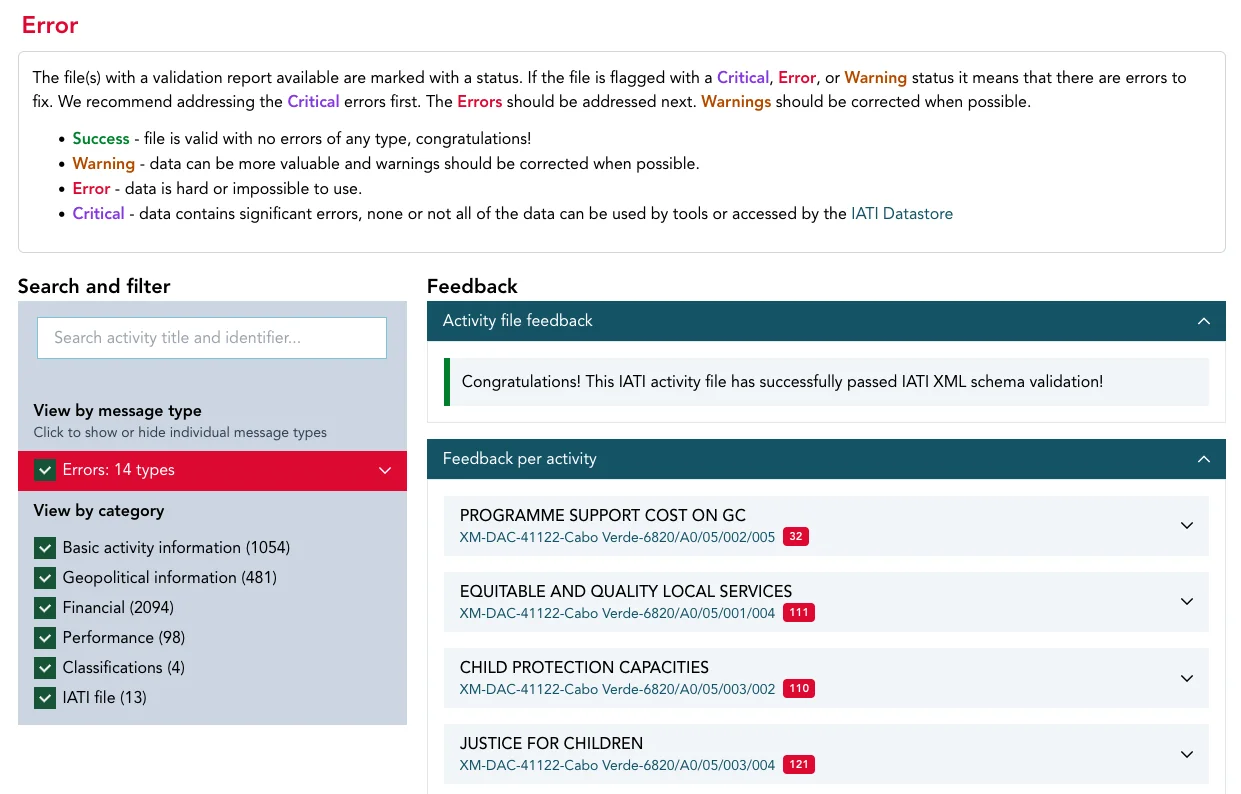 Check Data UI Improvements

The "Check Data" page has been simplified to de-clutter the page and make the most commonly used file upload feature default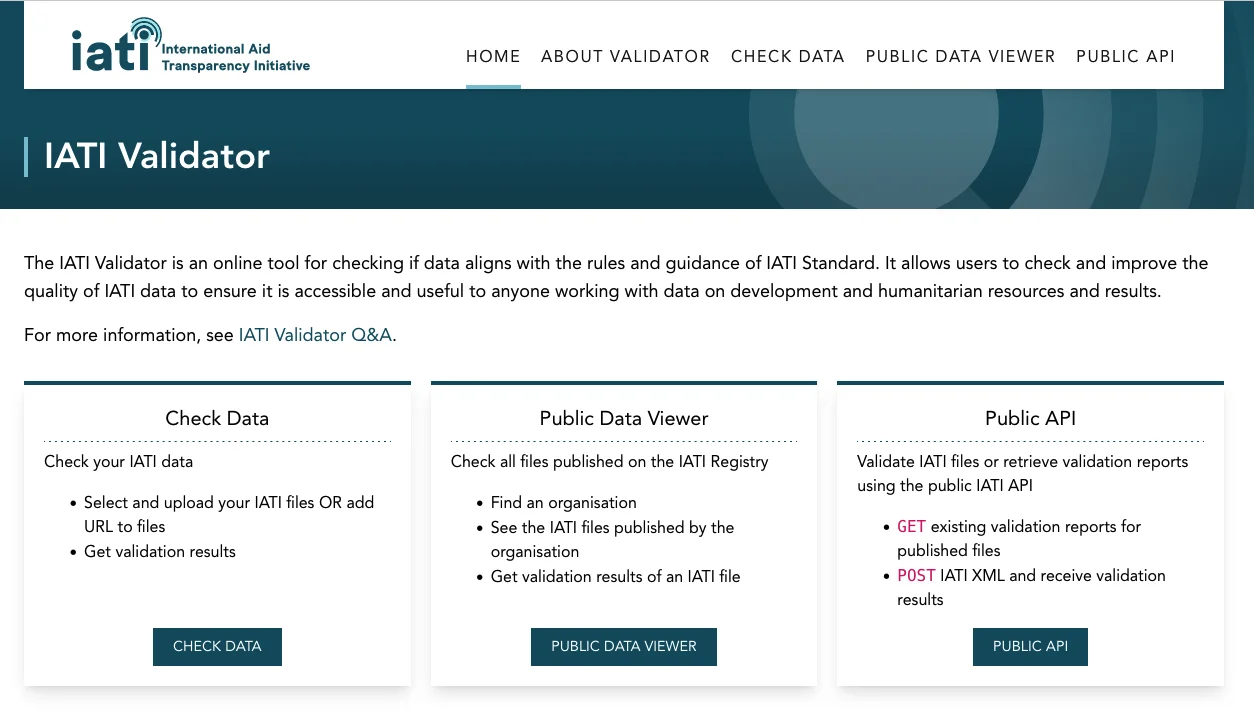 Get support
For more information on the release of these Validator improvements and to get support, organisations can:
Related news
IATI's Technical Lead, Wendy Thomas updates our community on the progress made on IATI tech and upcoming work.
Read more
Enhanced IATI Validator services have been released today, as a further step towards improving the quality of IATI data available on development and humanitarian resources and activities.
Read more