IATI has launched its Datastore Search tool, which enables users to access data from IATI's Datastore version 3. Datastore Search provides all valid development and humanitarian data published to IATI in CSV, XML and JSON via a simple website.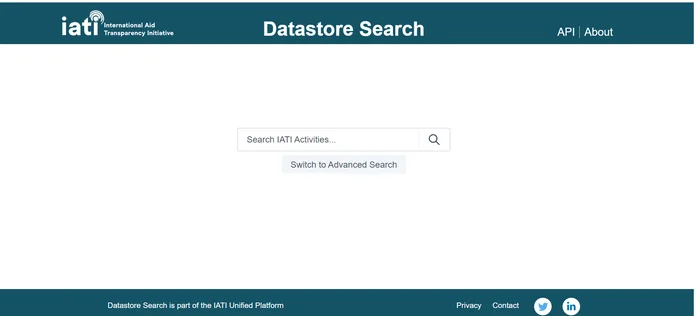 About Datastore Search
Datastore Search replaces IATI's previous Query Builder tool and can be accessed at the same URL: iatidatastore.iatistandard.org/. The new tool offers a range of additional functions to enable complex queries of data published to the IATI Standard:
Robust free text searches: users can use an online web-search style interface to search for IATI activities using keywords
Flexible searching: users can select data across any combination of elements or attributes in the IATI Activity Standard
Extended access: Datastore Search is not paginated so users can download thousands of rows of data at once
Access of element definitions: Users can hover over any element of the IATI Standard and access its definition
The launch follows the release of the Datastore version 3 API in January, which enables organisations to import IATI data into their internal technical systems and external tools. By building Datastore Search on the Datastore version 3, the tool is able to return data that is updated in less than 24 hours and is valid (only data that aligns to the schema of the IATI Standard is provided by the Datastore).
Join a demonstration of Datastore Search tool 5th April, 3pm UTC
Find out more about the features of Datastore Search by joining a meeting of IATI's Data Use Working Group on Tuesday 5th April at 3pm UTC. IATI's Technical Team will provide a demonstration of the tool and how to use it to access complex data sets to inform your work. Please keep an eye on the DUWG group on Connect for joining instructions: https://iaticonnect.org/DUWG/stream
A recording of the demonstration will be posted online after the meeting.
Feedback and additional Support
The first release of Datastore Search offers the ability to filter IATI data by all elements and attributes within the IATI Standard. Users are encouraged to contact the IATI Technical Team with suggestions for additional features and guidance. To gain support to use Datastore Search or for any other data use queries contact the IATI Technical Team: [email protected]. Alternatively, visit the Data Use Query Corner on IATI Connect to learn how to solve data queries with IATI data and post questions to the IATI community.
Upcoming work
By launching Datastore Search, IATI is helping to meet the needs of data users who have existing knowledge of the IATI Standard and want to download raw IATI data for analysis. This year, IATI's Secretariat will focus on developing a new version of IATI's data visualisation tool, d-portal, to make IATI data more accessible and useful to less technical and new audiences. In identifying the requirements for d-portal version 2, including how data is processed and visualised on the tool, the Secretariat will ensure that it complements and not duplicates the functions of Datastore Search.
Stay updated with the Technical Team's work by engaging with IATI's Technical Community of Practice on IATI Connect.