Data published by donors to the International Aid Transparency Initiative (IATI) on their future spending plans has increased by an impressive 46%.
In 2017, US$111 billion of planned spend was shared one year in advance in forward-looking budgets provided by donors, compared with $76 billion in 2016. The rise marks tremendous progress in transparency, enabling developing country governments, NGOs and others to better plan and coordinate development resources.
The new figures are released in IATI's 2017 Annual Report, which reviews the progress and challenges in humanitarian and development transparency.
IATI publishers increased by 26%
128 new development and humanitarian organisations (an increase of 26%) published their data to IATI in 2017, bringing the total to over 600 organisations. This represented US$145 billion* of disbursements and expenditures reported during the year by donor governments, multilateral agencies, foundations, NGOs and private sector organisations.
*2017 disbursements and expenditure reported by all publishers total US$144,732,282,962. As IATI traces the flow of resources between organisations down the aid delivery chain, this figure includes double counting.
128 new development and humanitarian organisations (an increase of 26%) published their data to IATI in 2017.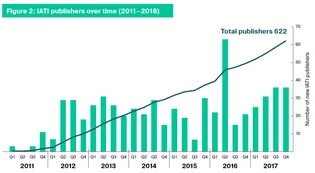 IATI data quality continues to improve
Along with the improvements in forward-looking data over 2017, IATI's two other measurements of data quality have had notable progress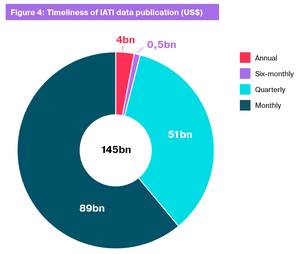 Timeliness: Up-to-date information
IATI encourages publishers to update their data at least quarterly to ensure it is useful.
The timeliness of data has remained high in 2017 with 97% of spending reported by publishers who update their data at least every quarter. Data published monthly has increased by 15% since the 2016 Annual Report.
Comprehensiveness: detailed information
The best sign of progress made among IATI's 'comprehensive elements' was on the results of spending, with the number of organisations providing data for this field more than doubling since 2016 (from 76 to 166). Publishing results is vital to help users better understand the impact or difference that development and humanitarian activities make.
The Annual Report shows there is still much improvement needed from publishers to share other details required by the comprehensiveness elements, such as providing precise locations of projects.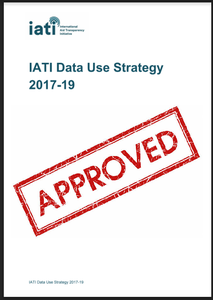 Prioritising the use of IATI data
The Annual Report 2017 highlights the launch of a new Data Use Task Force and the development of a two-year strategy to increase the use of IATI data. Among efforts of data users, Guinea, Mali and Somalia have announced plans to integrate IATI data into government aid information management systems to inform decision-making.
10 new members joined IATI
The political endorsement of IATI continued to grow over 2017 with 10 new organisations joining IATI as members. These include the governments of Guinea, Italy, Mali and Somalia, the Netherlands Enterprise Agency, the International Finance Corporation, the International Organization for Migration, Oxfam America, Oxfam Novib and Plan International. Joining IATI shows a clear commitment to transparency and open data and these new members now have an important stake in the initiative's governance.
Future challenges
IATI marks 10 years since it was launched in 2008 and is proud of the tremendous commitment made to transparency by the international development and humanitarian sectors over the years.
The key focus over the rest of 2018 is to increase the use of IATI data to contribute to the achievement of sustainable development.
Download IATI Annual Report 2017