The International Aid Transparency Initiative (IATI) celebrated its 10th anniversary with a high-level event on the future of data, transparency and open governance that took place during the United Nations General Assembly (UNGA) 2018.
Hosted by Secretariat Coordinator UNDP, the meeting raised awareness of IATI's achievements and future challenges for its second decade.
At the event, participants had a chance to see IATI's history wall, showing its journey from the original 14 founding signatories launching the initiative at the The Accra High Level Forum on Aid Effectiveness in 2008, mapping the growth in members and publishers and considering its potential over the next ten years.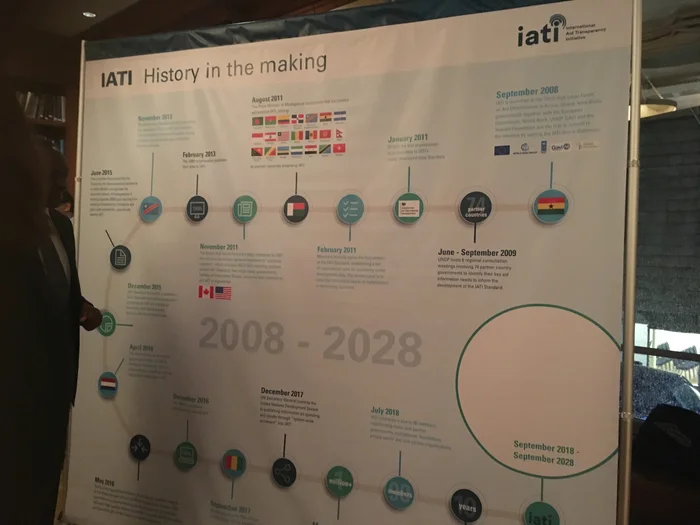 We also took the opportunity to launch a new short video: "10 years of the International Aid Transparency Initiative".
Panel discussion
Acclaimed broadcaster Henry Bonsu moderated a discussion with high-level panelists, taking several opportunities to involve audience members, ensuring a dynamic and lively conversation.
Here are five key takeaways from the discussion:
Results data are as important as 'input' data
The Director-General of International Cooperation at the Netherlands Ministry of Foreign Affairs called for an increase in results data published to IATI. Reina Buijs said IATI is "not only about the inputs or the money we spend… but what I expect, and that is possible in IATI, is to have results in the system because in the end, we want to see how money is spent and what the money delivers".
The Director-General highlighted the growing importance of capturing the results of development resources. "When we talk about implementing the SDGs and the sustainability agenda - it is about results".
2. Local ownership of data is key
There were strong calls to continue increasing the ownership and use of IATI data within developing countries. Attention was also paid to IATI's original aim to provide timely, comprehensive and forward-looking data to support governments to better plan and coordinate external resource flows.
Ulrika Modéer, Assistant Administrator and Director of the Bureau of External Relations and Advocacy at UNDP said "we need to see that we have local ownership of the data" and "if we can design IATI to take into account different interests at local and national level, then it should be possible to make an even better offer than we have now". In closing, Ms. Modéer added that more support across government ministries and statistical offices was needed to reach end users and strengthen local capacity.
3. Local ownership means local integration
To truly own and benefit from IATI data, it's important for IATI to be fully integrated into government's internal systems. Honduras' Vice-Minister of Foreign Affairs and International Cooperation said their government's national Aid Information Management System (AIMS) was fully compatible with the IATI Standard. Mrs. Maria del Carmen Nasser de Ramos explained that this helped them easily compare information that the government had collected with data published by donors to IATI.
Vice-Minister Nasser said that geographic and sector data from IATI was particularly useful to help identify and re-prioritise resources in the country. "You can look at information on sectors and you can probe more deeply. Our priorities are health, education or infrastructure… if [resources] are not meeting those priorities we can talk to the donors". Vice-Minister Nasser said that more expertise and training on IATI was needed to reach local communities involved in delivering development projects.
4. Visibility of all resources needs to expand
Participants were reminded that the financing landscape in international development had evolved since IATI was launched, with Harpinder Collacott, Executive Director of Development Initiatives noting: "Times have changed since 2008 where aid was a dominant flow". She referred to the growing importance of climate financing, south-south cooperation and private sector resources and identified IATI's challenge for the next 10 years as increasing the visibility of these non-traditional flows in IATI.
A promising example came from Samoa, as a Small Island Developing State (SIDS) in the Pacific with the potential for being heavily impacted by climate change. Government Minister Afamasaga Rico Tupai said IATI data was being used to improve investment decisions. "Development targeting is better, and where we concentrate our work in terms of sustainability is a lot better now". He explained that IATI data helped the government to identify that donors were concentrating their investments in urban areas, leaving rural communities behind. The government responded actively by creating a new rural development strategy.
5. Reaching end users means creating engaged, open communities
Daniel Steinberg, Senior Advisor at the New York City Mayor's Office of Operations joined the panel to share the city's experience of using open data to inform local policies and improve service delivery. As the first city in the world to report on its progress in delivering the Sustainable Development Goals, the Mayor's Office is proud of its work to actively encourage citizens to use their data to hold them to account, in the same way that IATI data can be accessed by citizens in any country as a way to work more closely with their own authorities. Mr. Steinberg said "open data is about fostering a community with civic tech community and end users".
The event was reflective and yet celebratory. It is clear that IATI is a strong and valuable tool and the more people use it, the more uses are found for it. This message was the underlying theme which came out loud and clear not only from panelists but from audience members throughout the conversation.
Our thanks to so many of the IATI community for turning out to join us on a tropical and stormy evening in New York City!