UN General Assembly Side Event - Celebration of 10th anniversary of IATI
The International Aid Transparency Initiative (IATI) is celebrating its 10-year anniversary with a high-level event on the future of data, transparency and open societies. The event will feature an interactive panel discussion moderated by acclaimed BBC TV broadcaster Henry Bonsu, followed by a cocktail reception.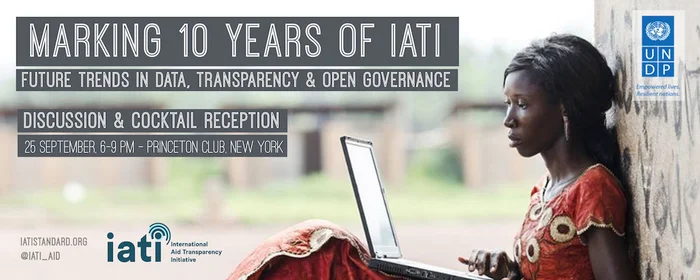 A celebratory milestone in IATI's history, the event will be an opportunity for the community of transparency and open data advocates to discuss and showcase data use and partnerships in the context of the Sustainable Development Agenda, as well as to outline their vision on the future of IATI against the background of changing development dynamics and open governance. A detailed concept note is attached.
Confirmed panelists include:
H.E. Mrs. Maria del Carmen Nasser de Ramos, Vice Minister of Foreign Affairs and International Cooperation, Honduras;
H.E. Ms. Peseta Noumea Simi, CEO, Ministry of Foreign Affairs and Trade, Government of Samoa;
Ms. Ulrika Modéer, Assistant Administrator and Director of the Bureau of External Relations and Advocacy, UNDP;
Ms. Reina Buijs, Director-General, International Cooperation, Ministry of Foreign Affairs, The Netherlands;
Mr. Daniel Steinberg, Senior Advisor, New York City Mayor's Office of Operations
Event venue:
James Madison Room, The Princeton Club of New York, 15 West 43rd Street, New York NY 10036
Timings:
6.00pm – 7.30pm Panel discussion
7.30pm – 9.00pm Cocktail reception with hors d'oeuvres
Kindly RSVP to Lea Zoric, UNDP-IATI Outreach Specialist: [email protected].
Additional information
Event details