Accountable Now Annual Workshop 2018: People-powered accountability for the SDGs
This year, Accountable Now's Annual Workshop will focus on the Sustainable Development Goals (SDGs), specifically, how to use accountability to create impact that advances the SDGs.
Workshop dates:
10th - 12th October 2018
Workshop venue:
International Civil Society Centre, Berlin, Germany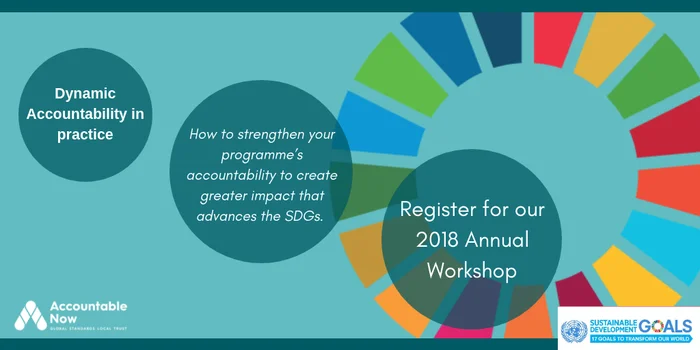 Aim of the workshop
The workshop aims to address the following questions:
What is Dynamic Accountability and how can it be used to strengthen accountability practices on the ground?
How to advance an effective people-powered accountability mechanism to demonstrate and be accountable for progress in achieving the SDGs?
What accountability mechanisms does your organisation have in its projects and programmes? How comprehensive, useful and timely are these mechanisms?
Feedback loops: How does your organisation engage stakeholders in this process and report back to them on how their feedback was implemented?
What type of mechanism is useful for which type of organisation and the different contexts you are working in?
How can it be ensured that these efforts lead to capacity building at the country level to successfully implement these mechanisms?
Who is this workshop for?
Staff of Civil Society Organisations responsible for projects and programmes that advance the SDGs as well as accountability experts within these organisations.
People working and implementing accountability mechanisms on the ground.
Organisations are encouraged to send international as well as local staff to spark the discussion.
For more information and to register for the workshop, please visit Accountable Now's website.